
The fastest online shopping for outdoor gear.


Pinguin Tramp PFM sleeping bag
Lightweight sleeping bag with a temperature limit of 7 °C and a weight of less than 1 kg. Suitable for summer use. If your hobby is summer cycling, hiking or packing your bags on a motorbike, the Pinguin Tramp is the sleeping bag for you.
Warmth is provided by a single-layer Thermicfibre PFM insulation with a grammage of 100 g per 1 m2. If you purchase two sleeping bags of the same length with opposite zippers, you can pair them together.
Like other sleeping bags, the Tramp comes with a compression sleeve that allows it to be reduced to less than three litres in volume if needed. We recommend purchasing a storage sleeve to go with the sleeping bag to extend its life.
Parameters of the Pinguin Tramp PFM sleeping bag
Weight of the 185 cm version: 0.9 kg
195 cm variant weight: 1 kg
Insulation filling: ThermicFibre PFM 100 g/m2
Filling construction: single layer
Outer material: polyester DWR Clima Control Shield
Inner material: Polyester Micro Lite
Width (max/min): 85/55 cm
Packed volume: 4.3 L
Volume after compression: 2.8 L
Connectivity (P+L): Yes
Dimensions after packing/compression: 15 x 28/18 cm
Sleeping bag temperatures

Comfort temperature: 11 °C
Limit temperature: 7 °C
Temperature extreme: -5 °C
Materials used
The sleeping bag is coated on the inside with Micro Light polyester. This fabric is very pleasant to the touch, almost to the point of giving the impression of cotton. In contrast, it dries much better, lasts longer and is much lighter.
Other materials are:
Thermic Fibre PFM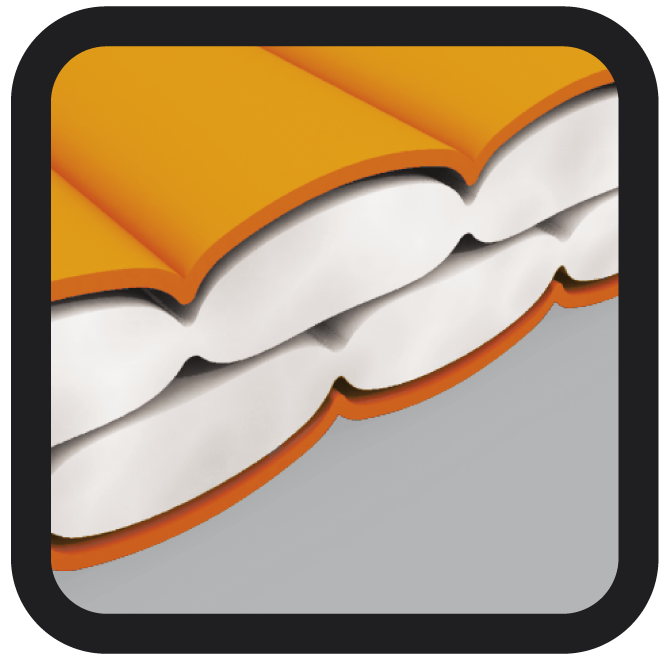 Thermal insulation material that consists of a mixture of siliconised hollow fibres with a very small diameter. Its size is similar to microfibre and thanks to this Thermic Fibre is able to bind large amounts of air molecules not only inside the cavity but also on the surface of the fibres due to its micro diameter. Thermic Fibre thus has a high thermal resistance.
The siliconisation of the surface fixes the fibres in their relative position, thus achieving a spring effect - i.e. a high loft of the insulation layer, with low weight and excellent packability.
Thermicfibre PFM is non-absorbent, water repellent, dries quickly and insulates well, even in high humidity. It is absolutely non-allergenic, very soft and user-friendly.
Easy to care for, it can be machine washed on a gentle programme also tumble dried.
Clima Control Shield
Clima Control Shield (CCS) technology prevents warm air from escaping from the inside while ensuring adequate breathability.
The combination of these featuresensures user comfort and a favourable internal climate of the sleeping bag. The water-repellent finish provides sufficient protection against adverse weather conditions. The Clima Control Shield fabric is lightweight, packable and soft to the touch.
No customer reviews for the moment.