
The fastest online shopping for outdoor gear.


We'll ship out within 24 hours.
In stock in the shop
Nordic Walking instructors recommend the Start WINNER poles. 100% HS carbon poles for Nordic Running and Nordic Walking. Detachable CLICK strap. One stick weighs 156 g*. Unbeatable running poles from Finland.
Nordic Running hole Start Winner Click
Winner running poles with CLICK loop are made for Nordic Running. The Start Winner model is designed for enthusiastic athletes who know what they want - no compromises.
"We use these poles ourselves for

Nordic Walking courses

that we run.
At the moment it is the top of the market."
Lukáš Krut'a, instructor of the Nordic Walking Point network
Theweight of one stick in length 115 cm with CLICK loop and without boot is 135 grams. These sticks are made in Finland, the home of Nordic Walking. The stick body winds from a diameter of 17mm at the top and descends to 8mm at the bottom and is made of 100% HS carbon.
Thanks to the premium composition, the poles absorb shock perfectly. The unique geometry of these clubs causes an excellent swing - the return of the club to the hand. In this respect, they outperform even lighter clubs from other brands!
The handle is made of durable plastic and cork in the grip part. The hardened steel tip is designed for the specific needs of Nordic Walking and Nordic Running. Also included are summer boots for use on hard surfaces.

Detachable CLICK strap
In sizes S, M and L, allows quick detachment from the pole and equally quick attachment to the pole. The clamping system is mechanical and very simple, easy to use even with gloves and works reliably even after many years of use. The CLICK loop perfectly follows the palm of the hand, it is soft, breathable and will be welcomed by all those who need to take the sticks off and on: instructors, photographers, dog walkers...
TheCLICK system allows you to quickly and easily take off and put back on the loop. Unhooking the loop works like unhooking a "grenade", by pulling on the eye. The eye is large enough for gloves. Putting it on works like popping a cork in a bottle. It's a simple, time-tested, mechanical system.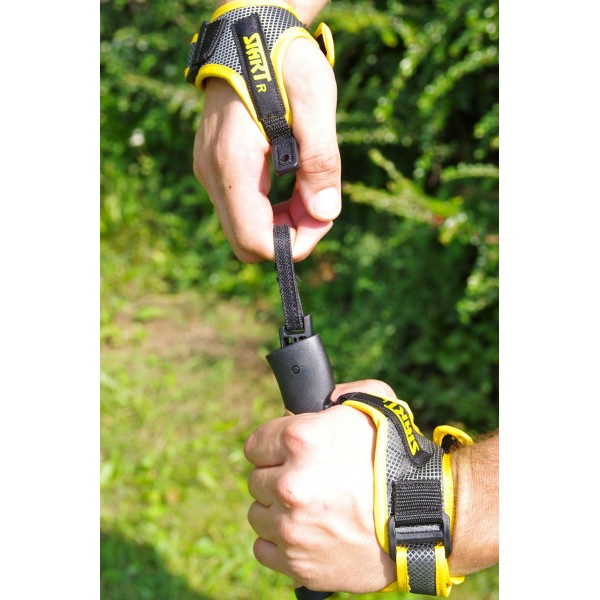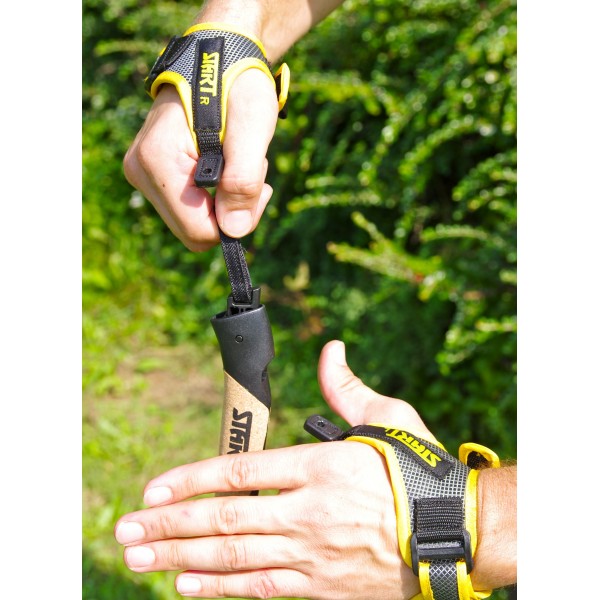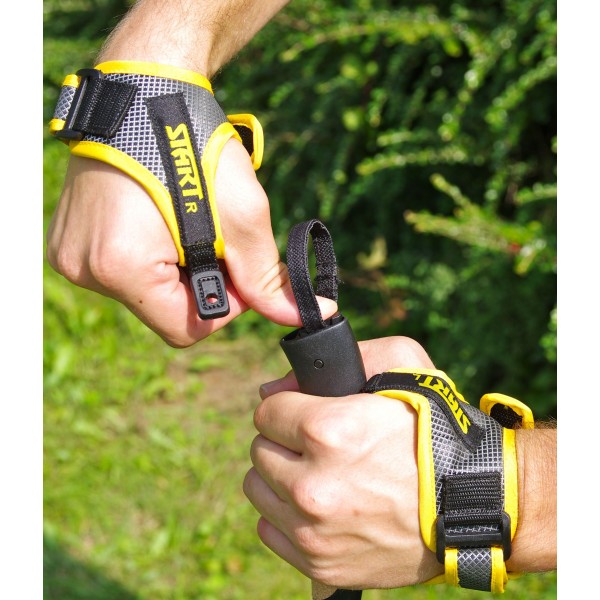 How to choose the right length of Nordic Walking poles?
You can choosethe length of the poles from 110 to 130 cm, in five centimetre increments. There is a general calculation to determine the appropriate length of the poles. We know from our own experience that it often unfortunately does not work.
We will be happy to help you choose the right length, the right type of sticks and gloves, please do not hesitate to contact us, either by phone or at our Nordic Walking coursesthat we organize.
Nordic Walking Pole Service
We can replace all parts of the poles such as tips, handles or gloves with new ones.
No customer reviews for the moment.
Customers who bought this product also bought: